ProWriter 2 Plus shows you, via incorporated Smart Reports, which companies have the highest returns and may earn 2.5% for this month. The software also lets you create your own Trading Plan showing:
You can download ProWriter for free. Install on your PC and log into real history data (last week) to see how the software displays all available options on the ASX, lets you select a Short List from those options and create a Trading Plan that you can print, download or email to an Adviser. Read the User Guide which will also give you a good understanding of trading covered calls.
You will also be emailed a demonstration ID and Password.
ProWriter 2 Plus - Australian Stock Options Data Service
ProWriter Features
Prowriter is a PC based software that uses stock option data via the internet to automate the Buy-Write / Covered Call Trading Plan, as used by MyCC. This Software has been purpose designed to connect to the internet, download Australian Stockmarket Data, provide factual analysis of that data producing Call and Put Option Yield Reports that show the % return from an option if Exercised, Not-Exercised for "At", "In" and "Out" of the Money Strike Prices.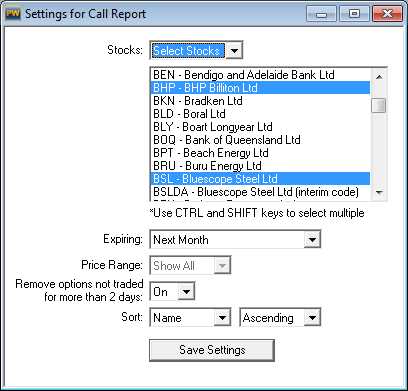 The successful outcome of just about anything requires a sound approach to planning. The goal of ProWriter is to provide you with a tool to quickly view and assess the returns of share options on the ASX. The application's outcome is to create an efficient and factual Trading Plan for Covered Call Options. Yay!
Prowriter 2 Plus Users can quickly create a report showing all available Options [both Call and Put] and the Yields In, At and Out of the Money for Exercised and Not Exercised outcomes.
ProWriter is only available from My Covered Calls.
Download ProWriter above to test the software or subscribe today For A Risk Free Seven Day Free Trail With Full Access to current data. Also receive ProWriter Software for FREE!
Please call me Tony on 0408763663 if you have any questions. Because trading covered call options is a niche space I am happy to give personal service.
PS I am retired now, and my wife and I are spending time travelling outback Australia...best experience; so if phone goes to message please be patient and I will get back to you when I can :-)